FAQ About Energy Cleansings and Psychic Readings
---
---
Please read this entire page BEFORE deciding whether or not you want a full energy cleansing. Full cleansings are not the same as psychic yes/no question and answer type sessions.
Basically, an energy reading is a "present time" psychic reading that allows the receiver to understand what things are standing in their way, benefiting them, or overall causing stagnation. Each individual's energy is a complex system composed of layer over layer of wants, desires, fears, past experiences, and most importantly, other people.
Energy is not good or bad.
---
A full cleansing is a structured energy reading that will touch on many areas of your life including, money, security, relationships (family, friends and romantic), self-esteem, communication, intuition and much more.
A full cleansing takes 1 hour. Please see my rates on my
Readings
page.
If you want a reading where you ask questions and I answer, you may be more interested in a psychic reading than a full cleansing.
Structure of a Full Energy Cleansing

---

You can print off a work sheet to follow along and take notes before your reading. Get the worksheet here! (This is not required, but may help you follow along.)
I will call you at the scheduled time.
If it is your first cleansing, I will explain what the reading will be like (this is free, the time you pay for begins when the actual reading begins).
I will ask you to say your full birth name, not your married name or legally changed name, your birth name. This allows me to tune into your energy.
I will tell you what color you are resonating at. I will explain what the color means. Our color changes often, sometimes many times a day.
The first thing I will read is your grounding. The grounding usually comes from the First Chakra (at the base of the spine) and projects down, into the earth. Some people are not grounded and some people's grounding is all wonky. Don't worry, it happens to everyone. =)
After securing your grounding, I will start reading the First Chakra (actually I read the energy layer the chakra projects) then work up to the Second Chakra, then the Third, etc.
After the cleansing is done, I will ask if you have any questions about what I said or any other questions you may have about your energy.
Please read the other questions and answers on this page for additional information.
There are
seven
major chakras (energy centers) in the body. Overall, we have over a hundred chakras, but these seven are the main centers.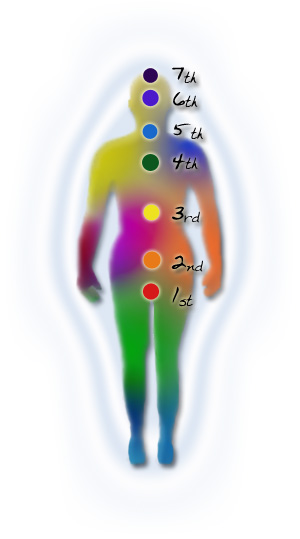 The 7 Chakras/Layers

7th

Spiritual/Knowingness
Higher Knowledge & Next Step

6th

Sight
Ability to See: Intuition, Clairvoyance, Eyesight

5th

Communication
Verbal, Technological, Telepathic

4th

Affinity for Self
Ability to Love and be Loved, Confidence, Self-Esteem

3rd

Energy Distribution
Physical Energy, Daily Routine

2nd

Emotions/Sexuality
Sexual Energy & Emotions (Moods)

1st

Survival Information
Food, Job, Clothing, Home, Income
---
Mini cleansings are shorter versions of full cleansings that focus on one or two topics or chakras. Mini cleansings are often helpful when you only need a certain area of your life or a certain situation looked at.
Mini cleansings usually range from 15 to 30 minutes.
---
Psychic Readings are more like yes/no questions that you can ask about yourself or others. Psychic readings deal with the past, present and future.
Full Cleansings are structured energy readings that focus on the present moment and cover the seven main chakras. They focus on what is going on with YOU, not what is going on with someone else. A full cleansing takes 1 hour. Please see my rates on my Readings page.
Mini Cleansings are short versions of Full Cleansings and deal with one or two chakras or one or two topics at a time. They focus on the present time and usually last between 15 and 30 minutes.
---
Yes, you can mix and match pyschic readings and mini cleansings, however, due to the amount of time it takes to do a full cleansing, pyschic questions can be asked at the end of the cleansing if time allows.
You cannot combine mini cleansings and full cleansings because they are the same thing, one is just shorter than the other.
---
I will not ask you for additional money. You pay for the time it takes to do the reading and nothing else.
I don't light candles or pray for you.
I do not give energy readings for someone other than you. If you ask me to give a cleansing to your spouse or friend, they need to contact me.
I do not heal you. I see the blocks and remove them. It is up to you and your energy if you will let them go or hold onto them. I cannot change anything in your energy because it belongs to you.
I am not a spiritual advisor. I am an energy advisor.
---
You may experience any range of emotion or physical energy. Most often, your overall mood and energy does not change, but sometimes the change is very noticeable. Don't worry, that just means things are shifting and your energy is releasing and fighting to let go of worn out beliefs, rules, and limitations that no longer benefit you.
If you get your cleansing before bed, many clients have reported that they slept better than average that night.
Feel free to email me with any questions about your energy levels after the cleansing.
---
Do whatever you would normally do.
---
That is personal preference, however, most clients try to schedule one every three to four weeks. Some people prefer to have one every two weeks.
If you want to wait six months between cleansings, that's alright too.
The cleansings are not quick fixes and should not be considered as such.
---
This does happen sometimes, but it is a good thing - it means you are growing! When we make an effort to change our lives and empower ourselves, old programming and limitations arise that need to be released. Some of these old patterns are deeply ingrained and it can appear "painful" emotionally to let them go.
However you feel after the cleansing, whether fabulous or sad, it will pass shortly.
Feel free to email me if you are concerned about how you feel afterwards.
---
Not at all. It depends on what you are releasing that determines your reaction to it.
You may feel great after one cleansing, tired after another, then sad after a third. There is no right or wrong way to feel, each experience is unique. In each instance, you are creating growth and room for your manifesting.
---
There are no refunds for a completed reading or cleansing. You are paying for my time, therefore, refunds cannot be issued for any reason once the session is complete.
If you have to reschedule your appointment (please give at least 24 hour notice), we can simply arrange another time.
If you pre-pay and then cancel the appointment before the scheduled appointment time, I will refund your payment.
---
At this time, Amy is unable to do email readings and does not answer psychic questions in emails. Due to time constraints, Amy can only respond to emails regarding setting and confirming appointment times.
Often, Amy is in back to back appointments and unable to respond to appointment requests immediately. Please be patient, she will respond as quickly as possible.
Amy does not work on Saturdays, therefore, all emails received on Saturdays will be responded to on the next available work day (usually Sunday). Please check Amy's schedule for up to date availability.
If you email Amy asking "What is the difference between a psychic reading, mini cleansing and full cleansing?" she will refer you to this FAQ answer.
---
Disclaimer
Energy cleansings, Law of Attraction readings and psychic readings are not intended to be a substitute for professional medical advice, diagnosis or treatment or professional legal advice. If you have legal, medical or psychological concerns, please seek out a licensed professional.
*Scheduling
Email Amy to schedule an appointment.
Once appointment is scheduled, use PayPal to pre-pay.
Amy will call you at the scheduled time.
*Keep in Mind
Energy cleansings & LOA readings focus on "present time," not the future.
Your energy today creates your reality tomorrow.